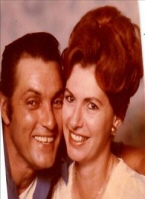 Obituary for DIXIE LEE COOK
Dixie Lee Cook joined her Husband, Henry "Hank" Cook in heaven on January 8th, 2017. Dixie was born July 5th, 1939. She was a loving Mom, Nana and Friend.
Dixie enjoyed being an ice skating Mom to her daughter, Tammy. Dixie would work for days, weeks and months sewing all of her daughters skating dresses - one sequin at a time.
She has two Grandsons, Mark Henry, 10 years old and Shawn Taylor, 20 years old. Shawn went to the Air Force this month to start his career. He got to visit with his Nana before he left. Mark is in 5th grade and would visit Nana in the nursing home. Mark enjoyed playing music for his Nana and putting her make up on for her. As Nana got a little weaker, Mark would even help feed Nana at times.